AKC registered

Russell Terriers

in Eastern Tennessee

Located in Clinton, TN...just north of Knoxville

Inquires are made by email only,

NO EXCEPTIONS. Contact Melissa Wilson, DVM at utvet2001@aol.com.

It can take weeks to get a response

due to my work schedule.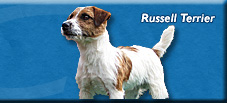 Utilizing imported and domestic 10-12" Jack Russell Terrier lines since 2004

"He is your friend, your partner, your defender, your dog.

You are his life, his love, his leader.

He will be yours, faithful and true,

to the last beat of his heart.

You owe it to him to be worthy of such devotion."

-- Author Unknown