Jan 2-4 - I showed four dogs in conformation at the Virginia Total Dog Challenge in New Kent, VA. Supertramp finished her UKC CH with a Best Female as did her daughter, Superstitious (Appy). Appy also went BOB over champions and then received a Group 4. It was Soda's first weekend to show and she did great winning the Puppy Female class and receiving Best Female three times. She also went BOB over champions and then received a Group 3...she is almost a UKC CH. Mindy went as a spectator to prepare her for when she is old enough to show. It was a fun weekend!

Jan 10-11 - Chablis' daughter, Spy, went to her first AKC agility trial in Harriman, TN. Both Lora and Spy had a great time, click
here
for video, and received a qualifying round in Jumpers with Weaves. Congrats Lora!
Jan 17-18 - Chablis' daughter, Ruby, received her Advanced Agility Dog of Canada (AADC) title. Way to go Julia! Here is a great video of Ruby playing Snooker...click
here
.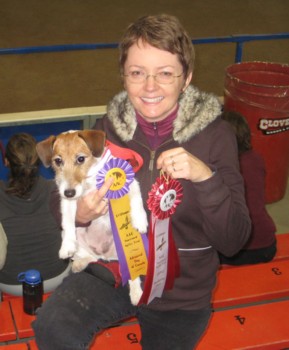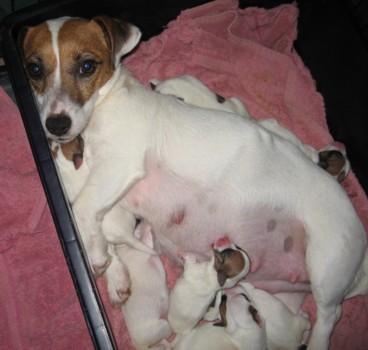 Feb 8 -
Supertramp
whelped two girls and four boys sired by Australian import,
Rascalee Bentley
. Two are tricolor and the rest are tan/white.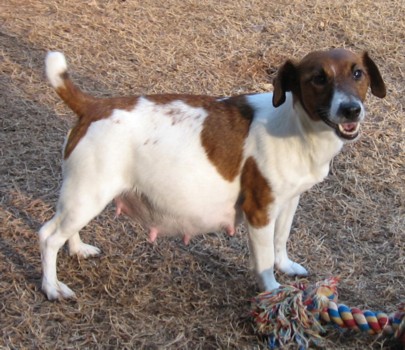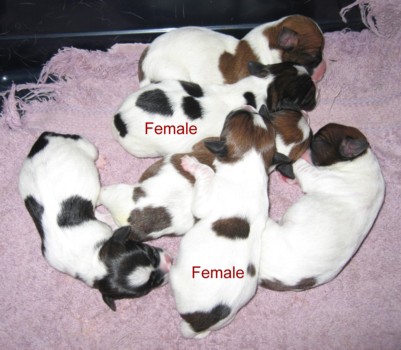 March 6 - With a heavy heart, I attended the funeral of K9 Officer Ringo. Ringo crossed over the Rainbow Bridge at the age of 10, having faithfully served the community for the previous 8 years...right up to the week before his kidneys fully failed. He was a once in a lifetime kind of dog and he will be missed by friends and family. Here is a link to his memorial
video
.
March 21-22 - I took four dogs to the UKC Carolina Classic in Hickory, NC and competed in four shows. Crossfire now has another CH class win and only needs one more for his GRCH. Both Appy and Crossfire were Reserve CH at one show each. Soda finished her UKC CH this weekend. She was Best Puppy Female, Best Female, and Best of Winners three times. She also went BOB twice and she now has twenty-six Top 10 points.

April 4 - Donna and Bean went to earthdog practice and had a great time! Have a look...click
here
. They are ready to try for their AKC Junior Earthdog (JE) in just two more weeks. We wish them lots of luck!
April 10-12 - I took four dogs to an outdoor UKC show put on by the Tar Heel Kennel Club...a total of six shows. Besides almost drowning during the monsoon on Friday, it was a beautiful weekend. Crossfire completed his UKC GRCH and was BOB once. He now has seven Top 10 points. Hattie won the Puppy female class four times, was Best Female twice, and Reserve Best Female twice. She is 2/3 of the way in gaining her CH. Appy won the CH class three times, was BOB three times, a Group 1, a Group 2, and a Best in Show! She also now has fifteen Top 10 points and one out of the five legs of her GRCH.

April 10 - More sad news with the passing of K9 Officer Rayzor due to complications from gastric-dilatation-volvulus on April 8. It is hard to lose a dog in his prime. I will miss his happy bear hugs.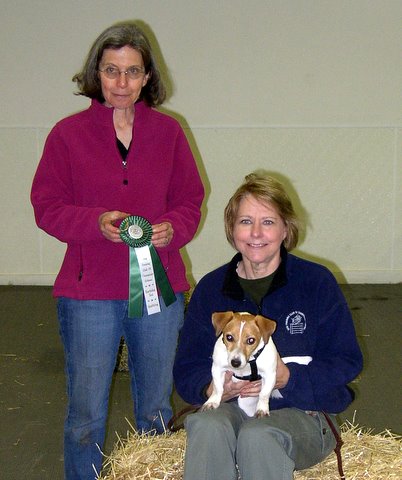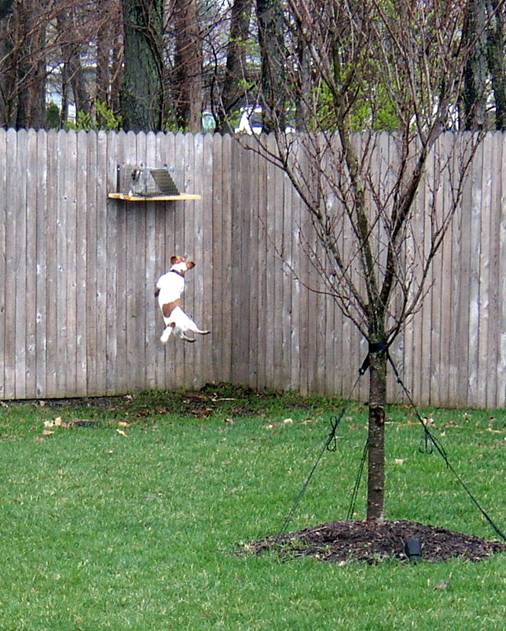 April 19 - Way to go Bean and Donna! They have a qualifying round in Junior Earthdog plus Bean protects the yard from squirrel invaders. Great job!

April 30 - I spent the day in
Ijams Nature Center
with five dogs and five puppies. We were there to be photographed by
Close Encounters of the Furry Kind
. I'm hoping some of our pictures will turn up in calendars and magazines next year. Even if they don't, I still had a great time and will enjoy having the pictures for my own scrapbook.
March 7 - Lora and Spy attended agility trials in Alpharetta, GA put on by the Lawrenceville Kennel Club. They looked great! Have a peek...click
here
.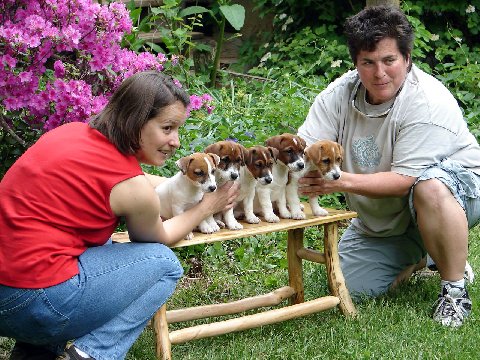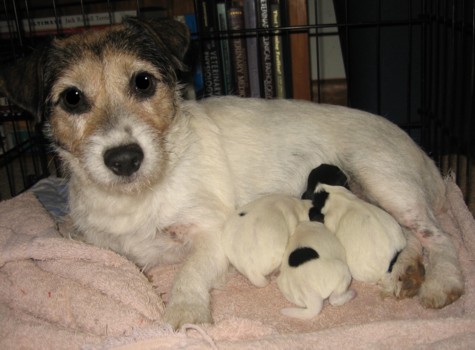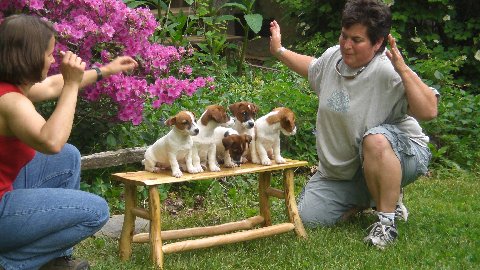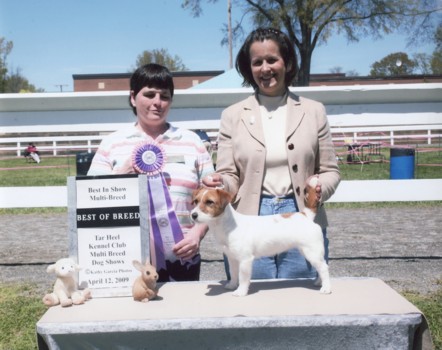 May 10 - I went to an AKC agility trial in Harriman, TN to watch Chablis' daughter, Spy, in action. She finished her Novice Agility title and her Open Agility Jumpers. Way to go Lora and Spy! Also, a big congrats to Lora on her graduation from vet school the previous week. Cheers to your future!

May - Ruby and Julia competed in the BC / Yukon Regional Agility Championships again this year. She did very well: 5th place overall in her division, 1st place for the Standard Run, 4th and 5th for the Jumpers run and qualified to compete at Nationals!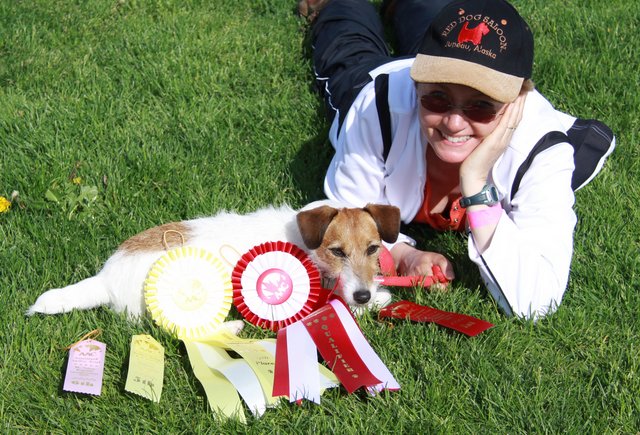 June 8 - Today my old dog Dash went to the Rainbow Bridge after fighting an almost lifelong battle with immune vascular disease. He is finally free of his condition and I will remember him as he was when he was young.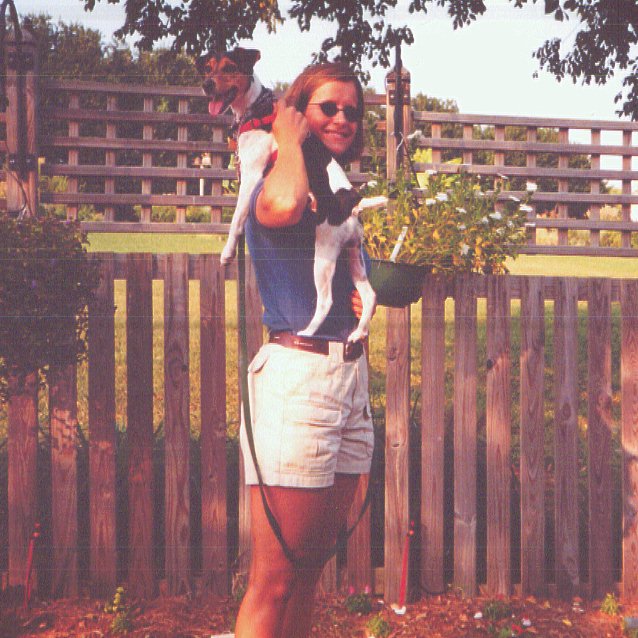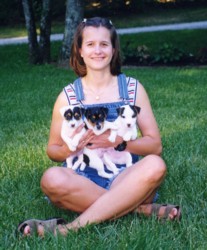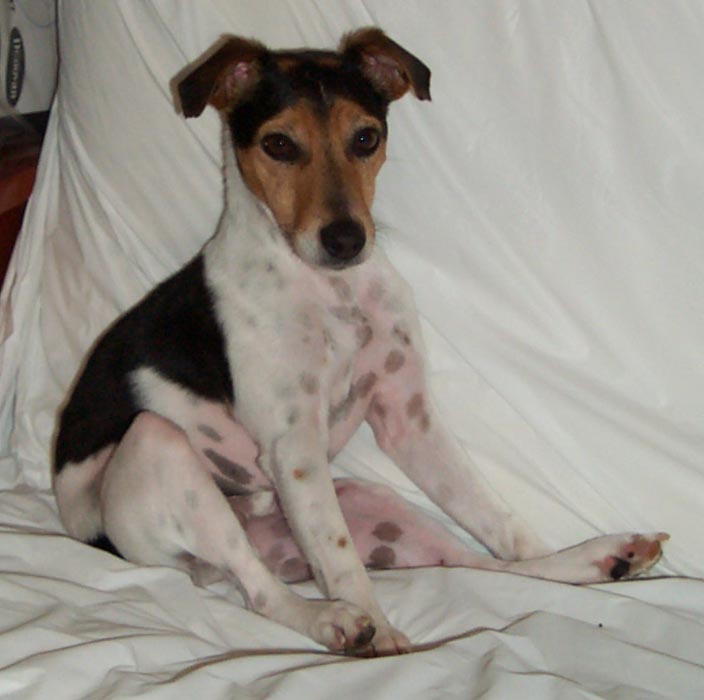 June 11-14 - I traveled all the way to Kalamazoo, Michigan to compete at UKC's Premier. It was a wonderful experience with lots to see and do. Hattie became a CH on her one year birthday plus received her first BOB that day. What a nice birthday gift!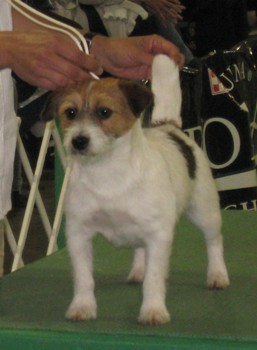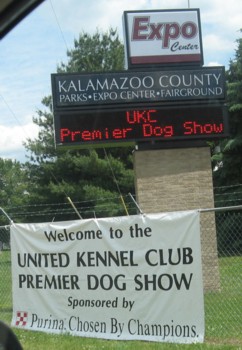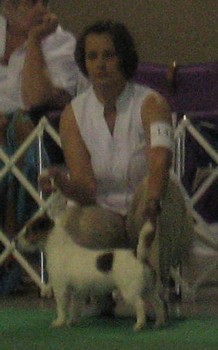 Aug 1-2 - I took three dogs to compete at a UKC show in Winston-Salem, NC. Soda was BOB three times plus received a Group 3 & 4. She now has 38 Top 10 points. Punky was Best Female twice and SuMoe was Best female once. I also took Ivan and Millie to get used to the sights and sounds for future events. My youngest sister, Lindsay, came with me and helped show. It was her first time and she did great! We ate at Winston-Salem's most popular restaurant,
The Village Tavern
. They had a live band that night which made our dinner even more enjoyable. I can't wait to go back!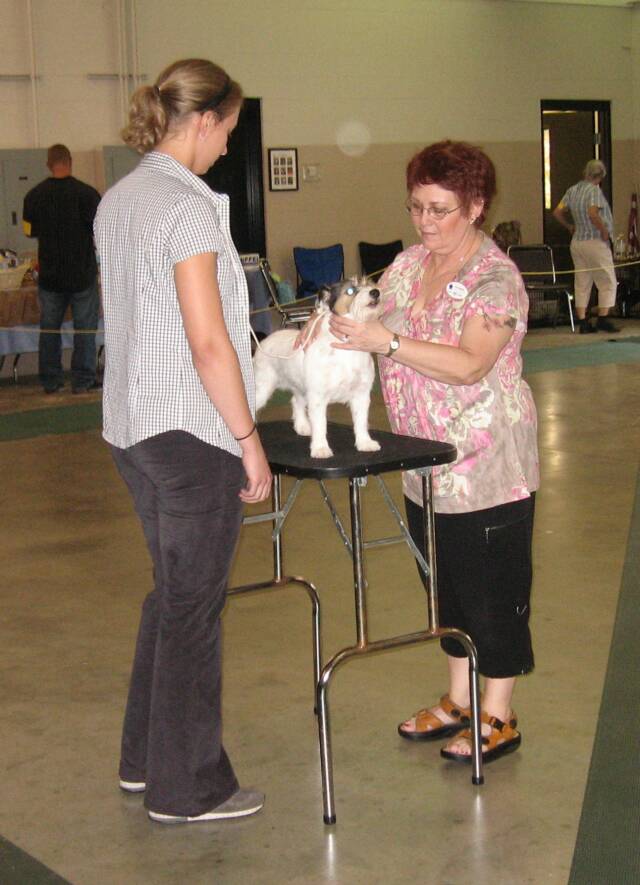 Sept 20 - I attended two UKC shows in Hickory, NC put on by the American Hairless Terrier Association. It was Ivan's show debut and he walked away with two Best Males. Punky finished her CH with two Best of Winners. Soda earned one leg on her GRCH by winning the CH class and was Reserve CH at the second show. She also went BOB at the first show and now has 43 Top 10 points.

Oct 18 - I participated in two UKC shows in Athens, TN put on by the Great Smoky Mountain Dog Club. Soda was BOB once so now has 47 Top 10 points. She also received a Group 3. Ivan was Best of Winner's in the first show and now only needs 15 more CH points to achieve his UKC CH. Junior was Best of Winner's in the second show and obtained his first BOB. I also showed my friend Shana's bitch, Rumor, and she was Best Female twice.

Oct 23-5 - I competed in five shows put on by the Mid-Atlantic Dog Club in Chesterfield, VA. Mindy completed her UKC CH during her first weekend showing by winning the Junior Female class five times, Best Female four times, and Best of Winner's three times. Ivan completed his UKC CH by winning the Puppy Male class and Best Male two times plus Best of Winner's once. Shana's Rumor completed her UKC CH winning the Senior Female class five times, Best Female once, and Best of Winner's once. Junior won the Puppy Male class three times and was also Best Male three times. Soda was Reserve CH five times.

Nov 3 - Millie completed an eight week Rally Novice class through the
Oak Ridge Kennel Club
. She also made it to four drop in Rally classes during the summer. Next, she's signed up for a four week Heeling class. She should be really to compete for her Rally Novice title sometime this spring.
Nov 7-8 - I took five dogs to Dayton, OH for a four show weekend put on by the Gem City Dog Obedience Club. This time, both of my sisters went with me to help...a family affair. Mindy was Best Female four times, received her first BOB, and a Group 3. She now has 4 Top 10 points. Appy won the CH class three times, was BOB twice, and achieved a Group 1. She now has 23 Top 10 points and only needs to win the CH class one more time to get her GRCH. Soda won the CH class once, was BOB once, and received her first Group 1. She now has 51 Top 10 points.

Nov 21-22 - I took six dogs to Milford, OH for a four show weekend put on by the Clermont County Dog Training Club...another family affair. Junior and Step finished their UKC CH. Soda and Appy finished their UKC GRCH and were each BOB twice. Soda now has 61 Top 10 points and Appy now has 33 Top 10 points. Frosty obtained two competition wins and 50 CH points her first weekend showing in the UKC. Junior, Supertramp, Soda, and Appy were each Reserve CH once.

Nov 27-29 - Only three dogs came with me this time to compete in five shows put on by the Ohio Toy Fox Terrier Association in Wapakoneta, OH. SuMoe completed her CH this weekend winning two Best Females. This was Virginia's first show and she now has all three of her competition wins and 75 out of 100 CH points. She also went BOB once so has 2 Top 10 points. Soda was BOB four times and now has 69 Top 10 points. She also got a Group 3 and a Group 4.

Dec 5-6 - Four dogs went with me to Courtland, VA for three shows put on by the Hampton Roads Kennel Club. Virginia showed once, getting a Best Female and completing her UKC CH. Frosty won a Best Female which finished her UKC CH. Dreamer also received a Best Female. This is the end of the 2009 show season for us. We competed in 47 UKC shows over 12 weekends with 16 different dogs and finished 13 Champions and 3 Grand Champions. It was a lot of fun but now we're ready to relax and enjoy the Christmas and New Year's holiday!